The elderly population is among the most vulnerable to infectious diseases and viruses such as the Coronavirus, influenza, etc. While South Florida attracts retirees from all over the world, nursing homes and assisted living facilities in the area can be a cesspool for viruses and other harmful contaminants. It's crucial that facilities keep up on regular HVAC maintenance and take preventive measures to stop the spread of harmful diseases.
At Air Quality Control Environmental, Inc. we help facilities stay current on duct cleaning, disinfection, and other professional services that ensure optimal indoor air quality. By complying with CDC standards, we address the many concerns of air quality including ventilation, ductwork, and preventative HVAC cleaning.
Request HVAC MAINTENANCE Services
Air Duct Cleaning for Assisted Living Facilities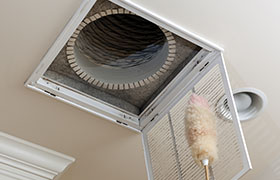 Air duct cleaning is of paramount importance for assisted living facilities. By removing debris, mold, and build-up, we prevent the spread of diseases and ensure the optimal health of your residents. In addition to air duct cleaning for your facility, we add a preventative layer of protection through HVAC UV lights that kill viruses at the source.
Our duct cleaning experts follow a strict and concise process to ensure that the job gets done right the first time around. From the initial inspection, air duct cleaning, and follow-up review, we labor tirelessly to ensure that all debris is removed from your ductwork, so your residents can enjoy clean and fresh air 365 days a year. For more information on our professional duct cleaning services, contact us today!
Electrostatic Disinfection Services & Office Disinfection
Office disinfection is just as important as the disinfection of your facility. From rooms, dining areas, office disinfection, and more, we provide your facility with electrostatic disinfection services that remove viruses and other harmful germs in under 40 minutes. But you may be wondering, how do electrostatic disinfection services work, and why are they the supreme office disinfection method for businesses and living facilities?
Benefits:
Reduced disinfection time of hard-to-reach places up to 50% or more.
Improved infection control and stops the spread of viruses like MRSA, HIV, and COVID-19.
Controlled and even application of disinfectants.
Prevents cost and burdens associated with contagious infections.
Process:
Charged liquid disinfectants pass through sprayer nozzles and onto hard-to-reach surfaces.
Droplets dispense evenly in indoor air environments and adhere to surfaces.
Charged droplets saturated surfaces and kill viruses and germs in less than 40 minutes.
UV Germicidal Lights for South Florida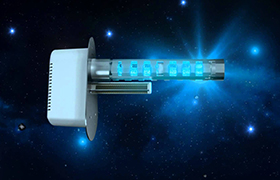 HVAC UV lights, also known as UV germicidal lights, are an important CDC recommended tool to clean ducts and remove debris. Attaching directly to coils and your HVAC unit, UV germicidal lights break down particles that spread infectious diseases. Not only do we provide you with HVAC cleaning, we offer your facility HVAC UV lights that prevent the spread of viruses in your ductwork. Call us today to learn more about how we can improve the air environment of your assisted living facility in South Florida.
Providing the Services You Need to Reopen and Stay Open Safely, Call Today!