Coronavirus Disinfection Services, Office Disinfection and Electrostatic Disinfection Services in Coral Springs, Parkland, Pompano Beach, FL, and the Surrounding Areas
Disinfecting your office or commercial property is more important than ever with the current environment of flu viruses including coronavirus, or COVID-19. Coral Springs, Parkland and Pompano Beach office locations need to go above and beyond in coronavirus disinfecting. Some commercial businesses may advertise employees are working overtime to clean and disinfect surfaces. An even better choice is thorough and complete coronavirus disinfection services from a commercial cleaner to reach deeper and further for confident and assuring protection.
Air Quality Control Environmental offers coronavirus disinfection service along with professional AC duct cleaning for a complete comprehensive cleaning. An A+ rating from the BBB, licensed and insured with over 40 years in South Florida, Air Quality Control Environmental has the experience, expertise and certifications for complete and professional disinfection services.
Request Office Disinfection Services
How Electrostatic Disinfection Works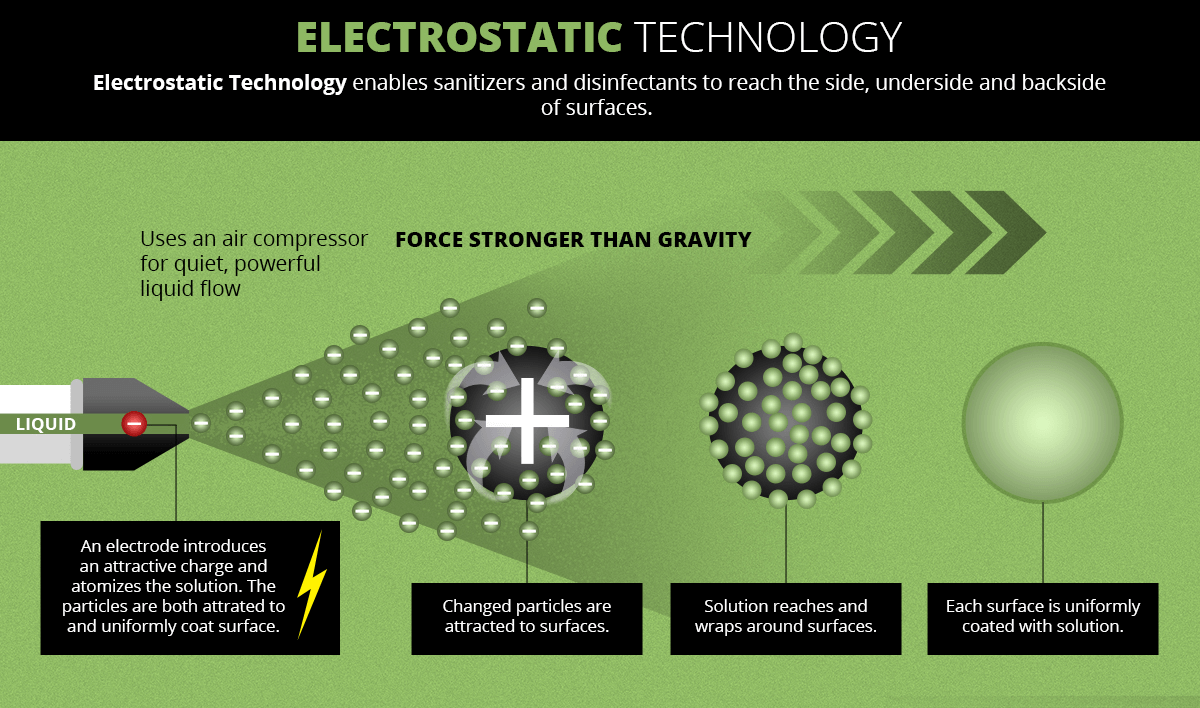 Disinfection Services for Offices, Restaurants, Gyms, and Hotels
Whether customers are coming to your location or just employees or vendors, building owners and managers are responsible for providing a healthy and safe environment. Professional office disinfection services shows employees and customers how important you take your professional responsibility to offer a safe choice when it comes to deciding where to do business or work. Offices, restaurants, gyms and hotels all have heavy competition in the Coral Springs, Parkland and Pompano Beach area. Be the leader in your area by showing your company has completed coronavirus disinfection services, along with electrostatic services, to provide a thoroughly safe environment. Combining professional services from an established commercial disinfection cleaner such as Air Quality Control Environmental provides: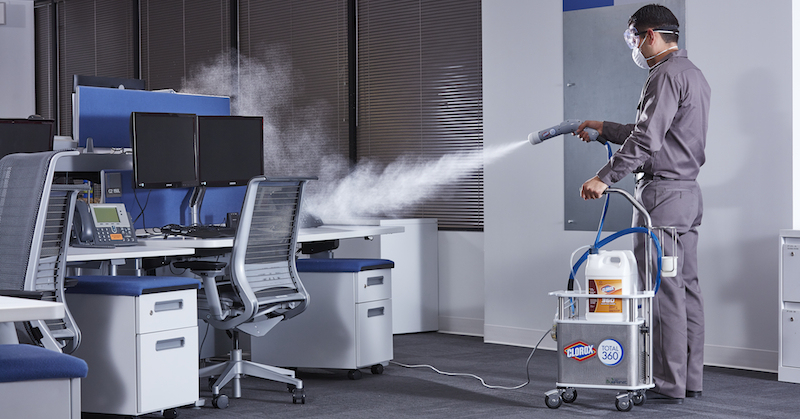 Coronavirus Disinfection Services and Air Purification
Air Quality Control Environmental also offers professional electrostatic disinfection services. Manual wiping with disinfectants is a great to clean flat surfaces for office disinfection. But, this is open to issues including human error and hard-to-reach cracks and uneven surfaces. Electrostatic disinfection services cover all surfaces as well as elusive areas for offices, restaurants, gyms, and hotels in Coral Springs, Parkland, Pompano Beach and surrounding areas. This professionally administered disinfection service saves time, ensures wider coverage and has superior disinfection ability. In fact, electrostatic disinfection services kill up to 99.9% of bacteria and is registered to kill multiple organisms including MRSA, Norovirus, cold and flu strains including the Coronavirus.
Another service from Air Quality Control Environmental are air purification units. Air purifying systems reduce odors and kill airborne germs. Various options including portable units for short-term rental or permanently installed REME filtration systems to maintain long term purification.
Contact us today to schedule your Coronavirus disinfection service. Companies are already scheduling service for continual cleaning and disinfection as well as future services.
For Office Disinfection Services in South Florida, contact us today.