HVAC UV Lights, and UV Germicidal Lights for Fort Lauderdale, Coral Springs, Pompano Beach, Boca Raton, and Palm Beach, FL, Businesses
Sick building syndrome is an EPA and Consumer Product Safety Commission recognized syndrome. Estimates are as high as 30% of all buildings having sick building syndrome.  No matter how often you clean the surfaces in your building, the source of sick building syndrome often remains there. This syndrome can be found in commercial buildings around the world and those right here in Fort Lauderdale, Coral Springs, Pompano Beach, Boca Raton, Palm Beach, FL, and the surrounding areas.
Imagine having the power of a system that can reduce germs from a sneeze by 99% within the first three feet. That is before it lands on surfaces, hangs in the air or is breathed by another employee. That is the power of the HVAC UV light-type systems you can obtain from Air Quality Control Environmental.
Request A QUOTE FOR HVAC SYSTEMS THAT REDUCE AIRBORNE GERMS & vIRUSES
UV Germicidal Lights
UV germicidal lights work to eliminate many types of harmful bacteria and viruses. While HVAC UV lights work to prevent mold and microbial growth on coils, UV germicidal lights can be used in other areas as part of a total indoor air quality solution.
Some of the top benefits of UV Germicidal lights are:
Healthier employees
Reduced allergy complaints
More concentration
Less respiratory irritation
Cleaner air for compromised employees
The fact that UV germicidal lights can kill viruses have made them very popular in the current environment. Many companies are requesting UV germicidal lights as either part of an HVAC UV lights system or as a separate unit to sterilize air for an extra defense in keeping a sanitized and healthy workplace. Also called an in-duct UVC system, these UV germicidal lights disinfect air during the normal air cycle. They are usually placed in an area that the light is maximized in multiple directions.
Always keep in mind that a filter does not catch the smallest viruses and microbes. To keep top indoor air quality, your building needs a solution that treats the air in your system as it is being cycled throughout your building.
Plan, Prepare, and Provide a Safer Work Environment
Commercial HVAC UV Lights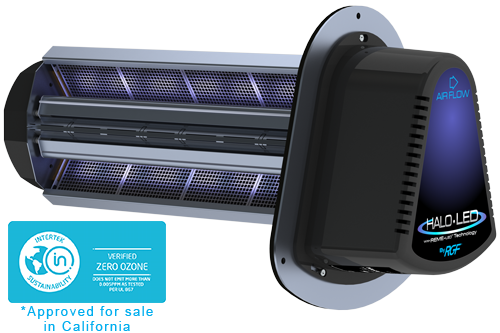 One of your best defenses is to install commercial HVAC UV lights for your building. HVAC UV lights were created with the intention of preventing mold and microbial growth on air conditioning coil. And now, they are available for immediate installation on your commercial HVAC system for an additional layer of protection for your employees and customers.
1. Prevent mold and microbial growth on air conditioning coils.
2. Energy efficiency up to 20% less energy consumption by HVAC system.
Also, coils cleaned by HVAC UV lights will maintain a cleaned status without the necessity of down time and the use of harsh chemicals. Think about air consistently flowing over clean coils without the up and down of cleaning and buildup. HVAC UV lights are part of an overall robust plan for top indoor air quality and control.
Get an Air Purification Solution that Works for Your Business, Contact Us Today!