Air Purification and Air Quality Control in Fort Lauderdale, Coral Springs, Pompano Beach, Boca Raton, Palm Beach, FL, and Surrounding Areas
If you are considering air duct cleaning or looking into air purification services for your home or business, choose the company with the most experience and a customized process from start to finish. At Air Quality Control Environmental, we have extremely high reviews from multiple independent rating sites for all of our air quality control services including air duct cleaning services, dryer vent cleaning, and commercial air duct cleaning throughout Fort Lauderdale, Coral Springs, Pompano Beach, Boca Raton, Palm Beach, FL, and the surrounding areas. We also utilize HEPA filtration systems and UV germicidal lights that go beyond normal filters for your home or building.
Step 1: Air Quality Control Assessment
We start with a full assessment because every home and business is different – age, foot traffic, different activities and building materials.
Our 10-point assessment covers all areas of your building:
Video duct inspection

Thermal image inspection via FLIR camera

Moisture mapping

Home temperature levels

Humidity levels

Dew point

Cold air returns

Air handler cabinet

Blower wheel, housing, and assembly

Dryer vent*
*This includes checking air flow before and after as well as checking the connections and the dryer stack.

Step 2: Air Vent and Air Duct Cleaning and Restoration Service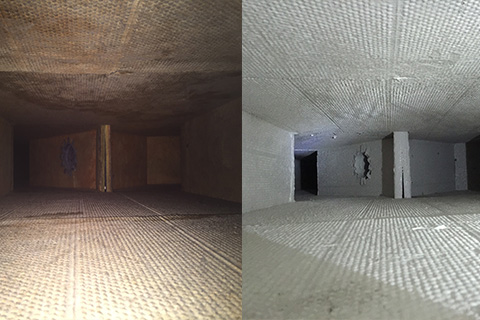 Based on our findings, we determine the correct course of action: repair/restore, replace, or if no issues were detected, you may not need any service at this time. If needed, Air Quality Control will perform the necessary services to address any issues discovered during the assessment, which may include air duct cleaning and/or air vent cleaning services. All air duct cleaning services are performed in strict accordance to NADCA Standard ACR 2013.
Air Quality Control utilizes a 3 step HEPA Filtration System. We clean the main duct and each individual air duct branch in the system.
We start the cleaning by laying drop cloths to protect your home or office. This ensures everything we collect from your air duct cleaning services is taken away.
 
Now we open and carefully clean each supply and return, clean the main truck line, and finish with a bacteria-killing treatment. We bring a combination of tools to get the job done including cable drives, air sweeps & whips, HEPA filtered vacuum and brush systems. During air duct cleaning services, all grills are removed, acid washed, and sanitized.
 
After air duct cleaning services are done, we restore your system to main optimal air:
We seal all fiberglass with a polymer coating
All external ducts are sealed with a mastic coating
Paint all resistors
Replace flex duct
Insulate return duct and attic space
Finally, we carefully remove drop clothes and all tools leaving no trace we were even there. Your home is clean and refreshed with pristine air quality control.
Step 3: Maintenance
Filters and In-Duct Air Purification Filtration Systems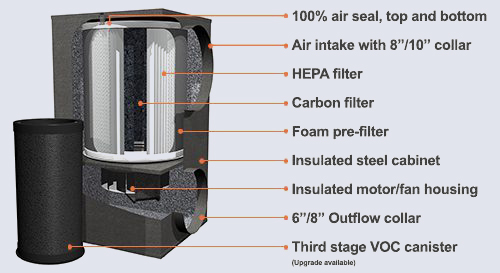 We also help maintain your system for the highest efficiency and effectiveness by utilizing the best in indoor air quality products – air purifiers by REME Halo Air and custom air filters for 1 year. Air purification systems reduce odors and kill airborne germs by attacking mold at the source and reducing the odors in your home through UV germicidal lights. When your system fan blows air, it carries the purifying power of natural oxidizers out into the conditioned space for continued virus and microbe-killing power.
The HALO-LED™ is the industry's first LED in-duct, whole home and building air purification system that is both mercury free and zero ozone compliant. The HALO-LED™ uses the REME-LED™ Air Purification system directly into the HVAC Air Handler. Air purifiers help in reducing or eliminating odors, musty smells, paint and chemical odors, and dust and particulates. We also offer the BLU QR® system.
Home Purification Systems
Air Quality Control is a proud certified provider of RGF products. The BLU QR® is undoubtedly the premier UV stick light technology and is far superior to anything offered in the industry today. It provides UV light disinfection and protection to the AC coil surfaces from bacteria, viruses, mold and mildew growth and odor.
Commercial Purification Systems
HVAC UV lights are a great solution for offices, restaurants, schools, gyms and any other building that wants to avoid being labels as having sick air. REME HVAC UV lights kills up to 99% of bacteria, mold and viruses and can actually reduce sneeze germs by 99% in the time a sneeze can reach three feet.
For Air Purification Services in South Florida, Contact us Today!