Building Reopening Preparation
HVAC Maintenance and HVAC Cleaning in Coral Springs, Fort Lauderdale, Parkland, Boca Raton, Sunrise, FL, and Surrounding Areas
HVAC maintenance and HVAC cleaning are more important than ever. Circulated air can make many occupants nervous about the air they are breathing and the health of employees, visitors, and contractors.
How can you prepare your building for reopening? How can you ensure it passes an indoor air quality assessment? One of the best ways is through a thorough duct cleaning process and maintenance to start out with a clean bill of health. Not only will you gain the confidence of your tenants, but you provide them with the information to pass along to their employees for peace of mind. Post a list of the duct cleaning process and maintenance items in the elevators. Give out pamphlets to tenants and employees. Residents throughout Coral Springs, Sunrise, Fort Lauderdale, Boca Raton, and Parkland have enough to worry about, give them the peace of mind of health and safety.
Request HVAC MAINTENANCE Services
How Does HVAC Cleaning Help You Reopen?
Here are the top three reasons why you need to get a complete HVAC cleaning for building reopening preparation:
Decrease mold and dampness – This summer has been more taxing than usual in South Florida including Coral Springs, Sunrise, Fort Lauderdale, Boca Raton, and Any humidity that got into ductwork could have started the growth of bacteria, mold, or mildew.

Reduce the buildup of dirt and debris – Without the HVAC running or a thorough HVAC cleaning, a buildup of dust, debris, or contaminants could suddenly break loose and block vents or release heavily contaminated air.

Decrease pest droppings – Rodents and insects could have taken advantage of unoccupied spaces and left droppings and residue through ductwork. And leaks throughout the HVAC system could pull these contaminates into ductwork from throughout the building.
HVAC Maintenance and Inspection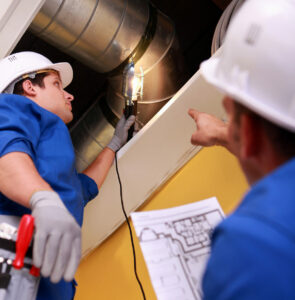 How will you know your HVAC maintenance is effective in your Coral Springs, Sunrise, or Fort Lauderdale building? Or that the HVAC cleaning is thorough in your Boca Raton, and Parkland office? How about using a video duct inspection. With specialized equipment, Air Quality Control Environmental goes deep into ducts for the visual evidence that prepares your building for building reopening preparation.
Thermal Imaging – Thermal imaging is powerful for HVAC maintenance to find hard to reach problems such as air and water leaks, electrical issues, and more. This helps find the issues to get to optimal building reopening preparation.
WIFI Endoscope – WIFI endoscopes (or borescopes) give technicians visual inspection abilities normally not attenable. A WIFI endoscope snakes through the HVAC system for optimal access.
HVAC Cleaning with Quality Air Control Environmental
Start your building reopening preparation with a thorough HVAC cleaning for the confidence of a full indoor air assessment. Regular HVAC maintenance keeps your coils clean, eliminates back-up, and ensures your HVAC system is working at its top capacity. If you or your tenants have more concerns, we'll work to create a schedule for increased HVAC cleaning for your Coral Springs, Sunrise, Fort Lauderdale, Boca Raton, and Parkland building, location or office. Contact Air Quality Control Environmental to get your building reopening preparation plan started.
For Office Disinfection Services in South Florida, contact us today.