Home Air Quality Inspection and Home Energy Assessment in Boca Raton, Coral Springs, Parkland, FL, and the Surrounding Areas
Is Your Home Wasting Money with Excessive Energy Expenses? Let's Fix That.
At Air Quality Control Environmental, we've worked with homeowners throughout Boca Raton, Coral Springs, and Parkland to help them save money on their energy costs. Many homeowners have the most energy-efficient appliances but still can't figure out why their energy bill is so high or why their air conditioner runs all day long.
The fact is, you have to look at your home as a system. This means your air conditioner is one component, your home's appliances another, and the airtightness of your home is another. Your home may have additional areas as well that add or subtract from the effectiveness of your total home energy and air quality. This is why a professional inspection is always recommended to give you a complete picture.
Request A HOME ENERGY AUDIT
Home Air Quality Inspections and Blower Door Testing
Our customers call us for a home air quality inspection for two main reasons. The first is that they are just starting their search into the air quality of their home, such as in a new home or looking for sources of respiratory distress. The second reason is the homeowners have done all they can to improve their air quality through filters, air duct cleanings, and more, but are still experiencing some issues. Both are great reasons to look into a home air quality inspection.
You may also need a blower door test to check for other air leakage issues. In fact, having a blower door test may be required by law. The purpose of a blower door test is to determine the airtightness of your home. Learn more about blower door testing ›
Home Air Quality Inspection Steps
Moisture mapping and humidity levels – You probably don't realize you have humidity in your home, but we can almost guarantee you do. Over time some building materials can degrade and either let in moisture or trap and hold moisture. This is especially true in areas of South Florida, including Boca Raton, Coral Springs, and Parkland.
Video duct inspection – Many leaks come from the air duct system, and while this is a source of heat escaping, it's also a source of poor-quality air getting into your HVAC system
Air handler cabinet – This includes all parts, including the blower wheel, housing, assembly, and more. If any of these components are not working to factory-installed conditions, they can draw too much energy and potentially break down.
Dryer vent – The dryer can be a big draw of energy if the dryer vent is not adequately cleaned on a regular basis. Towels, clothes, sheets, and more release lint that is not always caught by your lint trap and then gets caught in your dryer vent. This causes your dryer to work longer and longer and poses a potential fire hazard.
Home Energy Assessments for Boca Raton, Coral Springs, Parkland, FL, and Surrounding Areas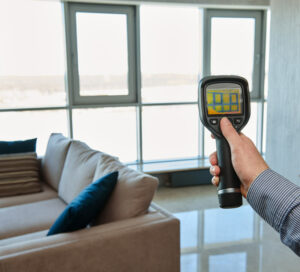 Ask anyone who has gone through a home energy assessment, and they will tell you it was well worth the money. A home energy assessment provides a report of where your home is using energy, losing energy, and could be saving on energy.
If you're looking to save on your energy costs or adding new systems and appliances to your home, getting a professional home energy assessment can help implement home improvement changes and save money.
A home energy assessment starts with the current performance of your home and then recommended changes. Next, we'll gather any concerns you have, such as rooms that never have desired temperatures, concerns about mold or humidity, appliances or systems you feel run too much, and more. We'll also inspect your home for any types of leaks that could be letting air escape or enter.
Our home air quality inspection and home energy assessment services are taken very seriously and performed to the highest standards of our industry. We are heavily involved in our industry's associations and have received the necessary certifications for inspections, installations, and remediations.
Certified Indoor Environmentalist – (CIE)
Certified Mold Remediator – (CMR)
National Air Duct Cleaners Association – (NADCA)
Certified Air System Cleaning Specialist – ASCS
Ventilation System Mold Remediator (VSMR)
Certified Dryer Exhaust Technician (C-DET)
Contact us to set up your appointment for more information about saving on energy costs and improving your home's energy usage with a home air quality inspection or home energy assessment in Boca Raton, Coral Springs, and Parkland.