Residential Air Duct Cleaning Homes and Condo Owners
Is your home always dusty? Does your air conditioner always seem to be running? Are you or your family members having trouble with asthma or allergy attacks? It may be time to clean the air ducts in your home!
Typically, air ducts commonly used for Florida A/C systems are made with fiberglass insulation.  While still inconclusive, studies are trending towards breathing fiberglass particles being a carcinogen.  Our cleaning process includes a special coating to prevent fiberglass from breaking loose and becoming airborne post cleaning.
It could be time to clean your air ducts if
You notice dust building up all over your house
Your allergies are getting worse or you're coughing.
Waking up with runny nose or irritated eyes
You don't know when the ducts where last cleaned in the home you just purchased
It has been more than 5 years since your last cleaning
You live close to an unpaved road or near the beach
You just finished a remodeling project
Choosing not to clean your ductwork can cause problems for you and your home, including health problems, dirty rooms and surfaces, and high energy bills. When dust and pollutants build up in your ductwork, it filters into the interior of your home and builds up on surfaces. You breathe in that filth, and are forced to clean far too often. As residue builds up inside your HVAC system, it decreases its efficiency and makes it harder to maintain a comfortable indoor temperature. Your heating and cooling bills are higher, because you're using more energy than you should.
Air Quality Control Environmental enjoys restoring a healthy, clean environment in our customers' homes. Our air duct and dryer vent cleaning services are comprehensive, and our air purification systems are fairly priced and warranted. We come to your home prepared to clean any type of duct system using a combination of tools including, cable drives, air sweeps & whips, HEPA filtered vacuum and brush systems. We open and carefully clean each supply and return, clean the main trunk line, sanitize all the register grills, and finish with a bacteria-killing treatment. We use drop cloths to protect your home, and when we leave, your home is clean. All of our fees are established up front before we begin.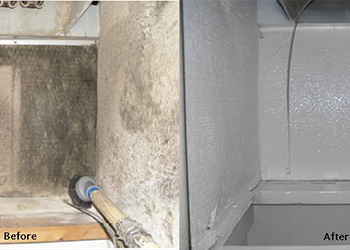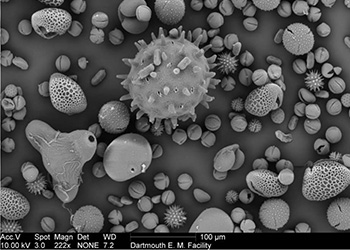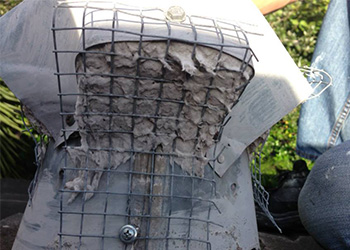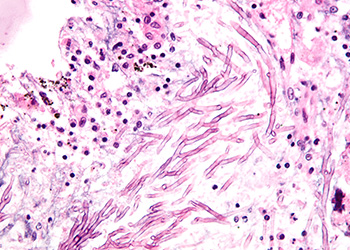 How we coat the fiberglass:
A majority of homes in South Florida use fiberglass ductwork, which is difficult and dangerous to clean with traditional methods. At Air Quality Control, we favor industry-leading products registered with the EPA, like LEED Green Rated Fiberlock IAQ8000, an antimicrobial coating for HVAC duct systems that's been proven effective for decades. It is formulated to effectively prevent the spread of mold and odor causing bacteria. FiberLock IAQ 8000 sealant is a high performance coating for use in duct work, designed to bridge and reinforce duct liner or duct board, seal unlined duct work prior to removal, and in preventing fiberglass from becoming airborne. It dries to a durable, flexible, moisture-resistant coating with a semi-gloss finish, which will also allow the duct work to be easily cleaned in the future.
Ducts: Before & After cleaning