Maintaining a clean and healthy atmosphere both at home or your work place is your responsibility. You should always make sure that the air surrounding you is clean. You are breathing in it and if there are any impurities in the air, it is straight going inside your body. This is often the result of several health issues. One of the major sources of impurities in the air is the air duct. HVAC systems are not well maintained and lack of cleaning leads to the accumulation of dirt and debris which when released into the air causes all the trouble. If you want to prevent such health complications, then you must hire air duct cleaning services. We, at Air Quality Control Environment, Inc., can be the right choice for you. We are an experienced and reputed company with efficient, well-trained, and smart professionals who can handle all kinds of air duct cleaning, vent cleaning, and so on. So, if you are located in areas like Hollywood FL, Miami Beach, Palm Beach, Palm City, Pinecrest FL, or Stuart FL, you can rely on us.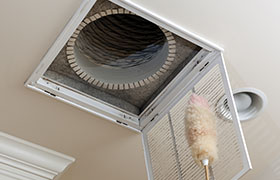 Here, we have put together a few major things to check about the company offering you air duct cleaning. Take a look.
Air duct cleaning is an important and quite a challenging job. You have to make sure that you hire efficient people who have the knowledge and training in how to clean the air ducts. So, always check the level of expertise offered by the company offering such services.
No service is ever available for free. You have to make sure that you check the charges the company will be charging for the air duct cleaning. This will also help you to understand if it is suitable for your pockets and if you can afford it.
So, after checking these factors, if you think we can be the right choice for you, then contact us today.