5 qualities of a good air duct cleaning company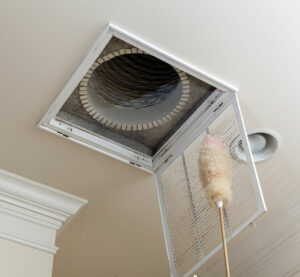 Air Quality Control Environmental Inc. is a reputed and genuine air duct cleaning company in Palm Beach, Boca Raton, Pompano Beach, Parkland, Fort Lauderdale, Coral Spring.
Professionalism: A good air duct cleaning company should exhibit professionalism in every aspect of their service. This includes prompt and courteous communication, arriving on time for appointments, and maintaining a clean and organized work environment. They should have knowledgeable and well-trained technicians who can answer any questions or concerns you may have.
Experience and Expertise: Look for a company with a proven track record in the industry. Experience matters when it comes to air duct cleaning, as it requires specific skills and knowledge to effectively clean and maintain the ductwork. An experienced company will have a thorough understanding of different HVAC systems and be equipped to handle various types of ductwork.
Certification and Compliance: It's essential to choose an air duct cleaning company that is certified by reputable industry organizations, such as the National Air Duct Cleaners Association (NADCA). Certification ensures that the company follows industry standards and best practices. Additionally, a good company will comply with local regulations and guidelines related to air duct cleaning.
Transparent Pricing: A reliable air duct cleaning company will provide transparent pricing with no hidden fees or surprises. They should be willing to provide a detailed breakdown of the costs involved in the service. Avoid companies that offer unusually low prices, as they might use bait-and-switch tactics or provide subpar service.
Customer Reviews and Recommendations: Take the time to read customer reviews and seek recommendations from friends, family, or trusted sources. Online reviews can provide insights into the company's reputation, the quality of their work, and their customer service. A good air duct cleaning company will have positive reviews and testimonials from satisfied customers who can vouch for their services.
Remember, proper air duct cleaning is important for indoor air quality and the efficiency of your HVAC system. By selecting a reputable and trustworthy company, you can ensure that your air ducts are cleaned effectively and professionally. Please feel free to give us a call.