Air duct cleaning is an issue that you may have faced for a long time, and it is still a big issue. There are numerous factors that can lead to problems with clogged air vents which are dangerous. Unfortunately, it is not possible for everybody to clean it on your own thoroughly. Even if you try hard to clean it, there are high chances that it still remains somewhat dirty. You may remember to have the filter changed regularly to prevent dusty air being circulated throughout their homes, but it's equally important that you have your air duct system cleaned. There are many professional air duct cleaning services who can help you achieve this.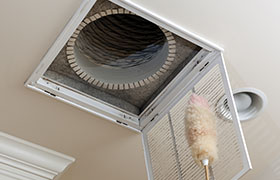 At Air Quality Control Environmental, we are dedicated to a healthier air environment and strive to provide quality air duct and vent cleaning service and maintaining your air conditioning units. We provide our services to Davie FL, Miami Beach, Palm Beach, Pembroke Pines, Port Salerno, and Stuart FL. If you are from any of these areas, feel free to contact us.
Here are some more benefits of air duct cleaning:
The air quality of the house is very important in terms of your health conditions. Dust, air contaminants, and toxic substances are frequently found in the heating, cooling, and ventilation systems. If your airflow vents aren't cleaned out frequently, then these contaminants can be emitted in your home and may cause significant illness
Improved System Durability
It is proven that approximately 9 out of 10 heating and air conditioner systems malfunction or fail simply due to homeowners' lack of routine maintenance. The maintenance costs and the labor required in the heating, cooling, or ventilation system are significantly cheaper compared to the costs of replacing the entire system.
So, if you are interested in our services, contact us today.